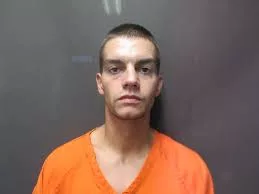 FARMERSBURG, Indiana (DLC Media) – A Parke County man is facing charges in Farmersburg following an incident at Mickeys Bar and Grill a little over a week ago. 28 year old Phillip Foster was arrested over the weekend after a warrant was issued due to an incident involving a firearm.
Last weekend a person was beaten and a firearm was taken out and pointed at other people in the area. Police believe that the one pointing the weapon was Foster. Shots were also fired at the bar that evening.
A US Marshall task force took part in finding Foster.  Along with the Marshalls, detectives from the Putnamville state police post were on the case. Foster has been arrested without issue.