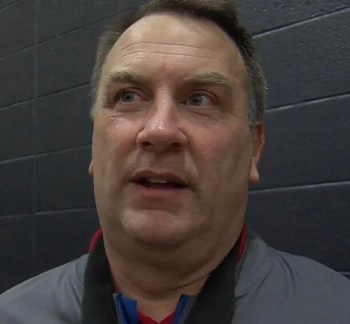 Shelbyville, Indiana – The Linton Miners Head Basketball Coach 50 Year Old Joey Hart was arrested in Shelbyville Monday March 13, 2023 just after 10:30 pm.  Hart was observed swerving and crossing the centerline.  When Shelbyville Police pulled him over he staggered from the car asking the officers what city he was in.  He thought he was in Clay City.  Hart was taken to a hospital for for testing before being booked into the Shelby County Jail on a charge of operating a vehicle while intoxicated. Once at the jail Hart reportedly refused a breathalyzer test.  Hart appeared in court this morning and has been released.
Hart was arrested on a public Intoxication Charge in December of 2022 and was put on administrative leave, for the month January, by the school corporation. The Linton Miners are scheduled to play the Parke Heritage Wolves in the first game of the Semi state Saturday at Southport.
Late this morning The Linton-Stockton School Superintendent released the following statement.
Linton-Stockton high School Boys Basketball Coach, Joey Hart, has been suspended indefinitely. Assistant Coach Noah Hawkins will take over the head coaching duties immediately and until further notice. This will be the only statement released by the school corporation or persons within the school and basketball program on this action, as we are bound by policy on discussing Personnel matters.
Dr. Kathy Goad, Linton-Stockton Schools Superintendent