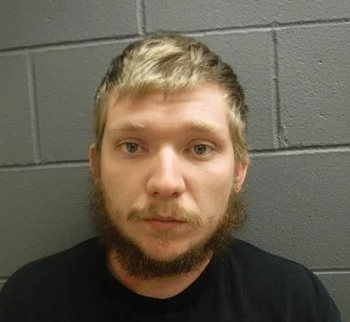 Clay County, In. – The Clay County Prosecutor's Office filed charges on November 22, 2022 against Jerick Hayden for his role in a deadly altercation which occurred on October 1, 2022. Hayden has been charged with one count of Attempted Murder (Level 1 Felony) and one count of Unlawful Possession of a Firearm by a Domestic Batterer (Class A Misdemeanor).
According to the probable cause affidavit, law enforcement officers from the Clay County Sheriff's Office were dispatched to a residence around 1:53 a.m. on October 1st. Deputies arrived on scene minutes later and found a female laying in the driveway with multiple gunshot wounds. Deputies found two firearms on scene, one of which belonged to the female. Deputies began to administer first aid to the female until STAR medics arrived.
The sheriff's office also received a call that two individuals involved in the altercation were located at the Pilot gas station at I70 with gunshot wounds. Detectives with the Clay County Sheriff's Office and the Indiana State Police arrived to process the scene at the residence and at the Pilot Truck Stop. Multiple spent shell casings were found on scene at the residence. Timothy Hayden was found at the Pilot gas station lying on the ground behind a vehicle. Timothy Hayden was pronounced dead on scene at the gas station.
Detectives interviewed Dakota Branham and Leah Butters. According to witness statements, Branham and the Haydens discovered that Timothy Hayden's residence was damaged by Leah Butters. After discovering this, Jerick loaded two shotguns and an SKS rifle into his vehicle. Jerick drove his vehicle to Butters' residence with Dakota as a passenger. Timothy also drove to Butters' residence in a separate vehicle. The residence was equipped with two outside surveillance cameras. Video footage caught Jerick and Timothy Hayden approaching the residence and the camera. The camera was then unplugged. Detectives discovered this camera to be unplugged when they arrived on scene.
Butters heard the Haydens outside of her house and exited the home with a handgun. Jerick was armed with an SKS rifle. Dakota was armed with a shotgun. An argument ensued between Timothy, Jerick, and Butters and multiple gunshots were fired.
After a lengthy investigation, police reports were submitted to the Clay County Prosecutor's Officer. After reviewing all the reports, going over witness interviews, and examining physical evidence, Prosecutor Emily Clarke elected to charge Jerick Hayden with Attempted Murder and Possession of a Firearm by a Domestic Batterer. An arrest warrant was requested and Honorable Judge Robert A. Pell found probable cause for Jerick Hayden's arrest.
Jerick Hayden was arrested on November 22. He is currently being held with no bond in the Clay County Justice Center