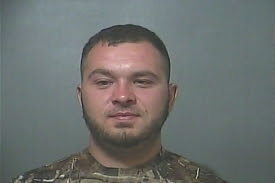 VIGO COUNTY, Ind – Just after midnight today (Friday 7/13/18), Indiana State Police attempted to stop a pickup for speeding, 45mph in a 30mph zone, northbound on 25th Street near 8th Avenue.
The driver of the truck initially pulled over near Maple Avenue, but as the Trooper got out of his patrol car, the driver fled northbound on 25th Street and west on Maple Avenue. As the truck passed over the tracks near 19th Street, the truck turned onto a dirt lane. The driver was able to evade the Trooper due to the dust and loss of visibility. The acceleration of the suspect vehicle caused numerous rocks to strike the officers patrol car damaging the windshield and other parts of the car.
About an hour later at around 1:30, Terre Haute Police located the suspect vehicle abandoned near 29th Street and Collette Street.
Minutes later, THPD received information about the the driver and relayed the information to the troopers who then arrested 27-year-old Steven D. Powers of Terre Haute on Barbour Avenue.
Powers was preliminarily charged with Resisting Law Enforcement, Criminal Recklessness, Reckless Driving, Driving While Suspended (Prior), and Criminal Mischief. The pickup was impounded.