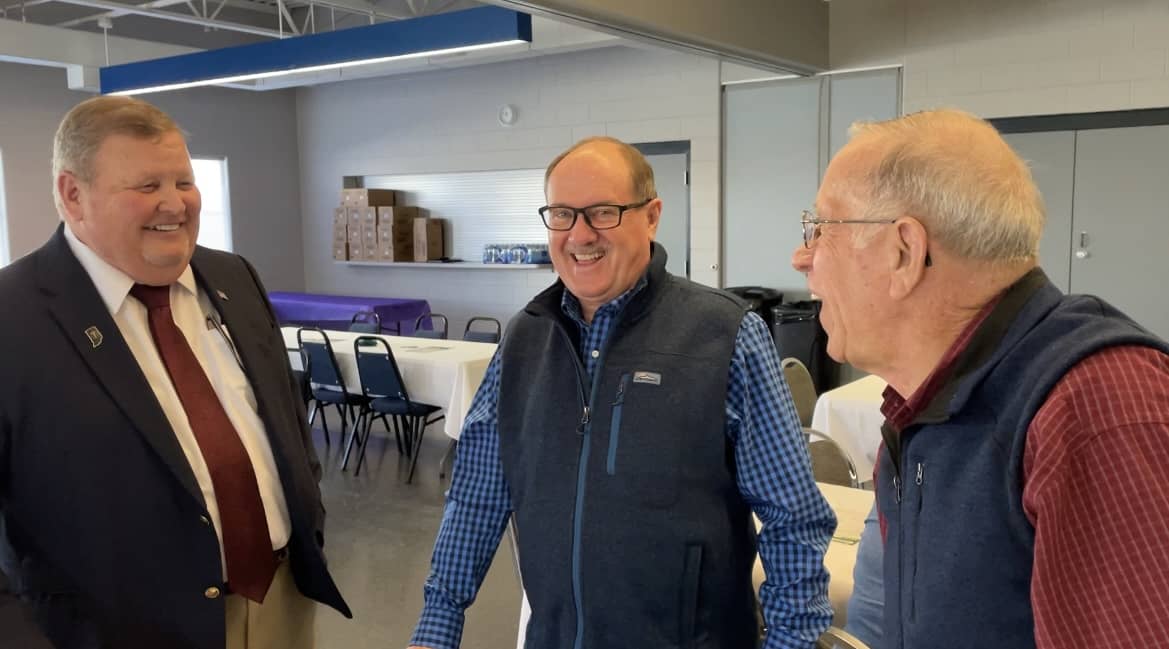 Mayor Brian Wyndham visits with Steve Bell and Roy Kellar before Wednesday's "State of the City" speech at the YMCA.
By Frank Phillips
DLC Media News
Brazil – Mayor Brian Wyndham gave an upbeat and positive "State of the City" speech Wednesday during the Clay County Chamber of Commerce luncheon at the Clay County YMCA.
Wyndham's annual address covered various topics from a splash pad to be installed in Forest Park this year to the city's upgraded designation from "rural" to "urban" as a result of the last census.
"I think we have a very bright future," the mayor said. "There are people sitting in this room making it happen. We appreciate all you guys and your support and that's what's making it happen."
He talked about various city departments:
Police Department:
Shop with a Cop provided toys for more than 90 children.
There are 14 full time police officers and "We could use a couple more," the mayor said.
A goal for 2023 is provide more specialized training for the police department.
Fire Department:
The fire department works with the schools, teaching children about fire safety.
The fire department will provide and install free smoke detectors. All that is required is to call the Brazil Fire Department.
Firefighters received 1,400 hours of hazardous material training in 2022.
"The public safety departments are working as hard as they can to be the best they can be at what they do," the mayor said.
Street Department:
The department is located in a new building.
All the city parking lots have been paved.
A few streets remain to be paved. The city will continue working on a street maintenance program and plans are to obtain grants to improve the city's sidewalks this year.
Planning and Zoning department:
There was $84,000 received by the city through building permits last year.
The city also received $227,000 in a Community Crossings Grants.
Parks:
The city received a $250,000 grant that will be matched by the city for the new splash pad at Forest Park.
Splash pads "are here to stay," the mayor said. "They require no lifeguards and the season is longer" than the pool.
The golf course superintendent "did a great job" last year. Usage of the Municipal Golf Course had declined but was back up 21 percent last year.
A bridge has been received for Craig Park that will span the dam.
The mayor hopes to get rid of the former zoo building and put that space to a new use.
Utilities:
Improvements are needed to the city's "ancient" water and sewer system, Wyndham said. A new line is being laid east on U.S. 40.
A phosphorous removal system will be installed this year.
The city and county are looking at economic expansion in the I-70 area.
The city and county have worked together to improve tghe industrial park, including a new water tower.
"We appreciate all you guys and your support and that's what's making it happen," the Mayor said. "There is a movement going on in Brazil. Great things are going on."
Mayor Brian Wyndham's speech can be heard in its entirety this weekend on DLC Media — Saturday at 6 a. m. on 104.9 WAXI and 7 a. m. on 1130 AM, 106.9. AND 99.5 FM WAMB. Sunday at 6 a.m. on 105.5 The Legend. And 7 a. m. on 92.7 WFNB.