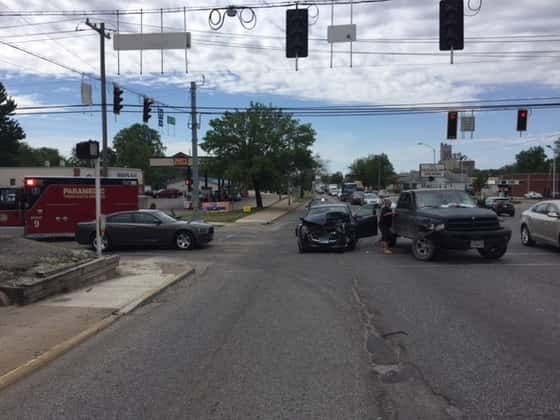 VIGO COUNTY, Ind —Tuesday morning just before 11 a.m. Indiana State Police Master Trooper Chip McKee drove up on a two-vehicle crash in the northbound lanes of US 41 (3rd Street) at Hulman Street. 
Police say that a black 1998 Dodge pickup, driven by 44-year-old Michelle Heidelberg-Bauer of Shelburn, IN., was southbound on US 41 and attempting a left turn to proceed east onto Hulman Street when she was hit by a blue 2015 Chevrolet Malibu, driven by 69-year-old Marita Shelton of Palestine, Illinois.
Police say that Shelton failed to stop for a red light for northbound US 41 at Hulman Street.
Shelton was taken to Union Hospital for minor injuries and was cited for disregarding an automatic signal. 
 No other injuries were reported.